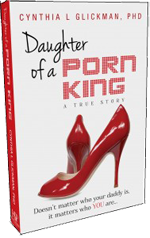 Daughter of a Porn King is the story of a child of one of L.A.'s porn magnates. Growing up surrounded by sex, drugs, booze and drama, she struggled with self-esteem issues, and eating disorders.
Through the eyes of the young Cynthia, you witness the internal struggle of a girl trapped in a world beyond a child's understanding. As she grows, you see how, with determination and optimism, the human spirit can transcend circumstance to find freedom, forgiveness, and unconditional love.
Get your free e-book download now.  Fill out the form below for your bonus:
In addition, you'll get our newsletter. We will never share your email and you can unsubscribe at any time.
"Dr. Cynthia Glickman has nailed it in this life-changing book, "Daughter of a Porn King." Through Cynthia's path, you will realize that you are more than just your body; you are a divine being. You are meant to be loved and to give love and she so eloquently weaves this truth into an uplifting and often entertaining story. May this vital message touch your spirit, as it did mine, and may it reach the hearts and minds of people everywhere!…"
Jack Canfield, #1 NY Times bestselling author of Chicken Soup for the Soul and The Success Principles

"Cynthia Glickman writes beautifully about the next level in our conscious evolution. As you read her compelling story, you will recognize your own seed of greatness within and how to grow that in your life. This book will touch your heart."
Marci Shimoff, #1 NY Times bestselling author of Love for No Reason and Happy for No Reason